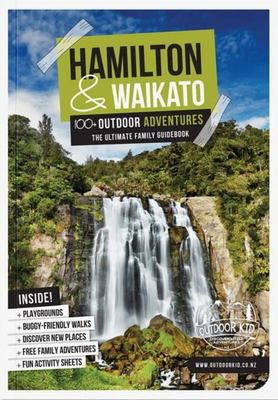 $25.00
NZD
Category: Travel
Waikato is the perfect stomping ground for intrepid explorers. Clamber through historic mining tunnels looking for glowworms, roll down vast black sand dunes and explore spooky limestone caves. This guidebook has 100+ of the best off-the-beaten-track adventures (with some crowd pleasing favourites in th e mix too) that Hamilton & Waikato has to offer. Discover the coolest local playgrounds, learn about native trees and birds, clouds through to geckos and endangered Maui dolphins. There are how-to-guides for the Hauraki Rail Trail, Timber Trail, Te Awa River Ride, Waikato River Trails and Bike Hamilton. It is the perfect size to pop into backpacks (or the glove box) so you have the information you need while out adventuring. Each walk has an information box with: the distance or time of the adventure, the grade of the path and its suitability for buggies, wheelchairs (and pooches!) and of course, how to get there. ...Show more
$25.00
NZD
Category: Travel
Auckland is an amazing region to explore with kids. Clamber up volcanoes, squelch across tidal mudflats or jump on a ferry and zip across the harbour to the country's youngest volcano, Rangitoto Island.  Our completely revised guidebook has 100+ of the best crowd-pleasing favourites to explore. The 2 020 edition has 30 new adventures and has doubled in size. Sea Caves? Head to the remote Whatipū Beach to explore. Playgrounds, splash pads, bike parks and pump tracks: Bring the togs, bikes and energy to burn on these adventures! All ages, all abilities: Walks from five minutes to a few hours. Easy inner-city adventures? Visit Oakley Creek Waterfall or scoot along the boardwalk at East Hobson Walkway. Education sheets to learn about volcanoes, wetlands, marine animals, native trees, Māori history and shorebirds. Māori language guide: Learn te reo Māori during your outdoor adventures. Department of Conservation Toyota Kiwi Guardians' activity trails to explore. A5 size with 168 pages printed on certified FSC paper from sustainable sources. It's the perfect size to pop into backpacks or the glove box.  More than 100 adventures from: Auckland City, North Shore, MTB forest parks, Devonport, Auckland Regional Parks, Rangitoto Island, Rotoroa Island, Hauraki Gulf, West Coast beaches and walks from Muriwai to Whatipū, Waitākere Ranges, Hūnua Ranges, South Auckland including Ambury Regional Park and Ōtuataua Stonefields, and East Auckland with its postcard-worthy beaches. Should keep everyone busy! All walks show the distance and time of the adventure, the grade of the path and if it is suitable for buggies, bikes, wheelchairs and pooches. ...Show more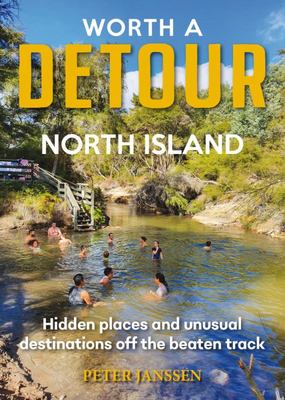 $40.00
NZD
Category: Travel
Travel writer Peter Janssen has travelled extensively around the North and South Island and in each volume he shares special quirky experiences and sublime scenery that are known to locals but are most often bypassed by visitors heading to better-known attractions. Avoid the mass of tourists and stroll empty beaches, experience unusual sights and adventures and uncover the other side of New Zealand's history and landscape with this comprehensive guidebook. Divided into geographic areas of the North Island, each entry includes descriptions, history, directions, addresses and contact phone numbers where relevant. Colour sections of photographs bring the text to life and location maps help plan your itinerary. ...Show more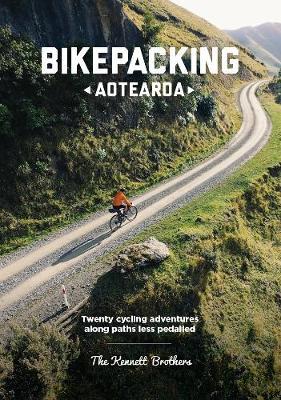 $30.00
NZD
Category: Travel
Bikepacking Aotearoa is a guide to twenty cycling adventures around New Zealand. The trips range in length from two days to two weeks and explore the less travelled parts of this beautiful little country. New equipment and a change of mindset have opened up a whole new world of possibilities. Bike pack ing bags, strap directly on to the bike and allow you to travel fast and light, on off-road capable bikes. Get away from busy main roads. Take to the gravel backroads, cycle trails, and back-country tracks to really get away from it all and find the hidden gems that Aotearoa has to offer. For riders who are looking for adventures close to home and for bikepacking routes that can be completed in 2-3 days Bikepacking Aotearoa offers a choice of 20 exciting routes that explore some of the most scenic parts of the country. These routes are perfect as weekend getaways or as preparation for a bikepacking event. • Introductory chapters cover equipment choice, bike setup, training and preparation. • Includes detailed route descriptions, maps, elevation charts, essential service listings • Routes are graded by difficulty • Includes a list of Bikepacking events on offer around Aotearoa NZ Contents Introduction Choosing and fitting your bike Packing your bags Preparation On the road North Island 1. The Heart of the Octopus 2. Great Barrier Island 3. Coromandel Peninsula 4. Raglan to Te Awa Loop 5. Caves to Coast Loop 6. Geyserland Classic 7. Whanganui – Whangaehu Valley Loop 8. Mangatutu Mission 9. The Five Beaches 10. Remutaka Plus South Island 11. Marlborough Sounds Loop 12. Kahurangi 500 13. Tasman's Great Taste Trail Plus 14. Rainbow – Molesworth 15. Wilderness No.8 16. Le Banks Peninsula 17. Alps 2 Hakataramea Loop 18. Te Kouka Traverse 19. Nevis and the Old Man 20. The Ram Rock Other Rides Plus summaries of an extra 20 nearby trips – recommended by leading bikepackers. Bonus rides: * Tour Aotearoa: 3000 km the length of New Zealand * Kopiko Aotearoa: 1060 km cape to cape across the North Island ...Show more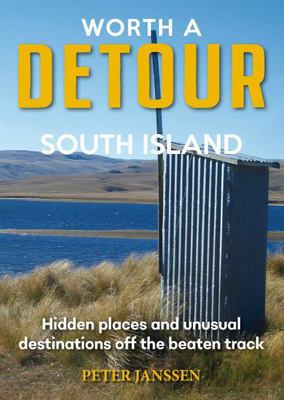 $40.00
NZD
Category: Travel
Travel writer Peter Janssen has travelled extensively around the North and South Island and in each volume he shares special quirky experiences and sublime scenery that are known to locals but are most often bypassed by visitors heading to better-known attractions. Avoid the mass of tourists and stroll empty beaches, experience unusual sights and adventures and uncover the other side of New Zealand's history and landscape with this comprehensive guidebook. Divided into geographic areas of the South Island, each entry includes descriptions, history, directions, addresses and contact phone numbers where relevant. Colour sections of photographs bring the text to life and location maps help plan your itinerary. ...Show more
$45.00
NZD
Category: Travel | Series: Lonely Planet Ser.
Take a world tour through 200 countries with this brand new edition of the bestselling kids' version of Lonely Planet's popular The Travel Book, loaded with thousands of amazing facts on wildlife, how people live, sports, hideous and mouthwatering food, festivals and a wide range of other quirky insight s on every page. Every single country gets its own dedicated page, and a mix of photography and beautiful illustrations brings each land to life. Perfect for keeping explorers aged 8 years and up entertained on the road. Authors: Lonely Planet Kids About Lonely Planet Kids:From the world's leading travel publisher comes Lonely Planet Kids, a children's imprint that brings the world to life for young explorers everywhere. We're kick-starting the travel bug and showing kids just how amazing our planet is. Our mission is to inspire and delight curious kids, showing them the rich diversity of people, places and cultures that surrounds us. We pledge to share our enthusiasm and continual fascination for what it is that makes the world we live in the magnificent place it is. A big adventure awaits! Come explore. Award-winning children's titles from Lonely Planet include The Amazing World Atlas(Independent Publisher Award, Gold for Juvenile Multicultural Non-fiction, 2015), How to Be a Space Explorer (Independent Publisher Award, Silver for Juvenile Non-fiction, 2015), Not For Parents The Travel Book, Not For Parents Paris, Not For Parents London, Not For Parents New York City,and Not For Parents Rome(all Parent Tested Parent Approved winners, 2012). Lonely Planet guides have won the TripAdvisor Traveler's Choice Award in 2012, 2013, 2014, and 2015. ...Show more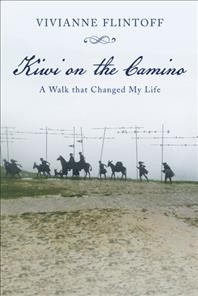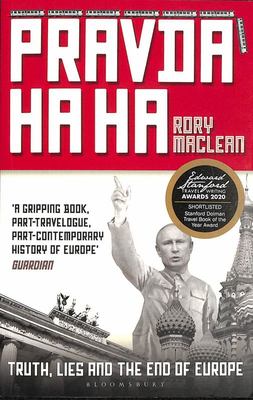 $25.00
NZD
Category: Travel
Shortlisted for the Stanford Dolman Travel Book of the Year Award 'A gem of a book, informative, companionable, sometimes funny, and wholly original. MacLean must surely be the outstanding, and most indefatigable, traveller-writer of our time' John le Carr In 1989 the Berlin Wall fell. In that euphoric year Rory MacLean travelled from Berlin to Moscow, exploring lands that were o for most Brits and Americans o part of the forgotten half of Europe. Thirty years on, MacLean traces his original journey backwards, across countries confronting old ghosts and new fears- from revanchist Russia, through Ukraine's bloodlands, into illiberal Hungary, and then Poland, Germany and the UK. Along the way he shoulders an AK-47 to go hunting with Moscow's chicken Tsar, plays video games in St Petersburg with a cyber-hacker who cracked the US election, drops by the Che Guevara High School of Political Leadership in a non-existent nowhereland and meets the Warsaw doctor who tried to stop a march of 70,000 nationalists. Finally, on the shores of Lake Geneva, he waits patiently to chat with Mikhail Gorbachev. As Europe sleepwalks into a perilous new age, MacLean explores how opportunists o both within and outside of Russia, from Putin to Home Counties populists o have made a joke of truth, exploiting refugees and the dispossessed, and examines the veracity of historical narrative from reportage to fiction and fake news. He asks what happened to the optimism of 1989 and, in the shadow of Brexit, chronicles the collapse of the European dream. ...Show more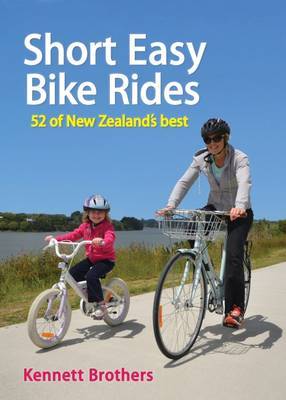 $25.00
NZD
Category: Travel
Enjoy the simple pleasure of a leisurely bike ride to a cafe, playground or picnic spot. These safe and easy cycle paths enable you to enjoy the outdoors at your own pace. 62 leisurely rides. Taffic free and safe. 1-3 hours riding time. Maps include bike hire, cafes and much more.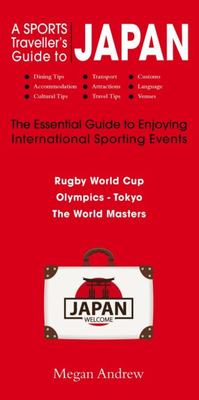 $25.00
NZD
Category: Travel
Japan will be the focus of sports fans over the next few years as it is hosting the Rugby World Cup in 2019, the Olympics in 2020, and the World Masters in 2021. This guide is a must-have for all fans attending sporting fixtures and aims to help you get by no matter how much or little Japanese you speak and successfully navigate language, cultural and sporting situations you will encounter as you travel round the country and attend sports events. With tips on everything from purchasing rail passes and sorting mobile coverage, to eating etiquette, how to support your team without offending anyone and what to wear on your feet when you go to the toilet, this guide demystifies cultural practices and offers lots of sensible practical advice that will cut stress levels so a fan's stay in Japan is enjoyable.  ...Show more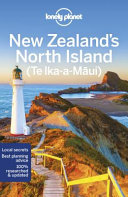 New Zealand's North Island 5
by Lonely Planet Publications Staff; Brett Atkinson; Peter Dragicevich; Anita Isalska; Sarah A. Levin
$33.00
NZD
Category: Travel | Series: Travel Guide Ser.
Lonely Planet: The world's leading travel guide publisher Lonely Planet New Zealand's North Islandis your passport to the most relevant, up-to-date advice on what to see and skip, and what hidden discoveries await you. Explore still-seething volcanos and bubbling mud pools, pull on your boots to tramp o r kayak a Great Walk (yes, you can!) and learn how Maori culture is so much more than just rugby and the All Blacks; all with your trusted travel companion. Get to the heart of New Zealand's North Island and begin your journey now! Inside Lonely Planet New Zealand's North Island: Colour maps and images throughout Highlightsand itinerarieshelp you tailor your trip to your personal needs and interests Insider tipsto save time and money and get around like a local, avoiding crowds and trouble spots Essential infoat your fingertips- hours of operation, phone numbers, websites, transit tips, prices Honest reviews for all budgets- eating, sleeping, sight-seeing, going out, shopping, hidden gems that most guidebooks miss Cultural insightsgive you a richer, more rewarding travel experience - History, sport, cinema, literature, arts, music, the environment and wildlife, Maori culture and etiquette, legends, politics, customs, extreme sports, wine and foodie experiences, festivals Over60 maps CoversAuckland, Bay of Islands & Northland, Waikato & Coromandel, Taranaki & Whanganui, Taupo & the Central Plateau, Rotorua & the Bay of Plenty, the East Coast, Wellington and more The Perfect Choice: Lonely Planet New Zealand's North Island,our most comprehensive guide to New Zealand's North Island, is perfect for both exploring top sights and taking roads less travelled. Looking for more extensive coverage? Check out Lonely Planet'sNew Zealandfor a comprehensive look at all the country has to offer. Looking for just the highlights?Check out Discover New Zealand,a photo-rich guide to the country's most popular attractions. Authors:Written and researched by Lonely Planet, Brett Atkinson, Sarah Bennett, Peter Dragicevich, Lee Slater. About Lonely Planet: Since 1973, Lonely Planet has become the world's leading travel media company with guidebooks to every destination, an award-winning website, mobile and digital travel products, and a dedicated traveler community. Lonely Planet covers must-see spots but also enables curious travelers to get off beaten paths to understand more of the culture of the places in which they find themselves. Lonely Planet guides have won the TripAdvisor Travelers' Choice Awards in 2012, 2013, 2014 and 2015 in the Favorite Travel Guide category. ...Show more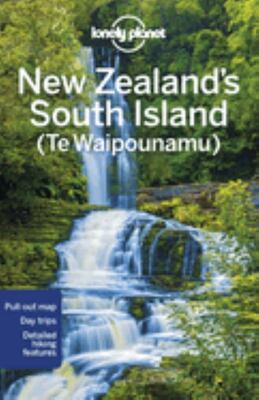 New Zealand's South Island 6
by Lonely Planet Publications Staff; Brett Atkinson; Andrew Bain; Peter Dragicevich; Samantha Forge; Anita Isalska
$33.00
NZD
Category: Travel | Series: Travel Guide Ser.
Lonely Planet: The world's leading travel guide publisher Lonely PlanetNew Zealand's South Islandis your passport to the most relevant, up-to-date advice on what to see and skip, and what hidden discoveries await you. Gaze upon the spectacular ice flows of Fox Glacier, commune with marine life at Kaikou ra, and relive your adventures over dinner in Queenstown; all with your trusted travel companion. Get to the heart of New Zealand's South Island and begin your journey now! Inside Lonely Planet New Zealand South Island: Colour maps and images throughout Highlightsand itinerarieshelp you tailor your trip to your personal needs and interests Insider tipsto save time and money and get around like a local, avoiding crowds and trouble spots Essential infoat your fingertips- hours of operation, phone numbers, websites, transit tips, prices Honest reviews for all budgets- eating, sleeping, sight-seeing, going out, shopping, hidden gems that most guidebooks miss Cultural insightsgive you a richer, more rewarding travel experience - history, art, music, M?ori language and culture, wildlife, cuisine, wine, landscapes, politics, literature, cinema. Free, convenient pull-outNew Zealand Touringsheet-map(included in print version), plus over 55 maps CoversMarlborough, Nelson, West Coast, Christchurch, Canterbury, Dunedi, Otago, Queenstown, Wanaka, Fiordland, Southlandand more The Perfect Choice: Lonely PlanetNew Zealand's South Island,our most comprehensive guide to New Zealand's South Island, is perfect for both exploring top sights and taking roads less travelled. Also check out Lonely Planet New Zealand's North Island. Looking for more coverage? Check out Lonely Planet New Zealandfor a comprehensive look at what the whole country has to offer. Authors:Written and researched by Lonely Planet, Charles Rawlings-Way, Sarah Bennett, Peter Dragicevich, Lee Slater. About Lonely Planet: Since 1973, Lonely Planet has become the world's leading travel media company with guidebooks to every destination, an award-winning website, mobile and digital travel products, and a dedicated traveller community. Lonely Planet covers must-see spots but also enables curious travellers to get off beaten paths to understand more of the culture of the places in which they find themselves. ...Show more