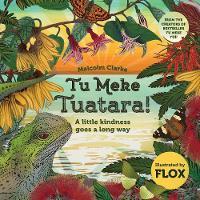 $30.00
NZD
Category: NZ Picture Books
 Tahi the Tuatara is down in the dumps and no matter what his friend, Roger the Ruru tries, nothing seems to change his mood. It's not until they answer a cry for help that their journey takes an unexpected turn. Tu Meke Tuatara! is a story about empathy, friendship and discovering that sometimes the be st way we can feel better about ourselves, is to help someone else. ...Show more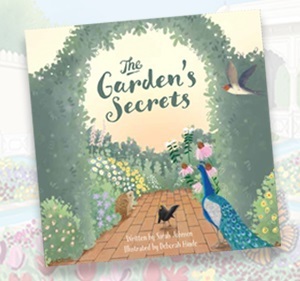 $25.00
NZD
Category: NZ Picture Books
"A door!" said Cooper, "In a garden? Why have a door in a garden?" The Garden's Secrets is a delightful picture book aimed at children aged from 2 to 6 years. This book will take you on a magical journey around many of the beloved locations at Hamilton's award winning Hamilton Gardens. The Garden's Sec rets is a playful story unique to the gardens with a narrative structured to encourage children to ask question. The map in the back will have readers retrace Cooper's footsteps themselves. ...Show more
$20.00
NZD
Category: NZ Picture Books
Search for clues hidden in the pictures and help Hound to solve the riddle in this delightful return to the world of Puffin the Architect.I'm Hound! And I'm a sleuth.I solve all types of cases.I sniff and snuff until my nosedetects the clues and traces.Missing jewels, stolen cars -I always solve the cri me.My latest case arrived by post.Ha ha - detecting time!This gorgeous, multi-layered and engaging whodunnit by an award-winning writer has a delightful surprise at the end. Readers will love studying each action-packed illustration, poring over the details of Hound's secret passages and map, spotting the adorable animals lurking in the pictures, and finding the caterpillar hidden on every page. ...Show more
$25.00
NZD
Category: NZ Picture Books
From glittering galaxies to busy city streets, this stunning picture book takes you on a tour around the Universe. I am the Universe, an infinite space of glittering galaxies. It's a starlit journey through space that will lead you to a wonderful planet brimming with all kinds of life - including your s. This stunning story demonstrating the scale of the Universe and our place in it was created specially for children aged three years and up by the award-winning author-illustrator Vasanti Unka, who lives in Auckland, New Zealand, the Earth, the Solar System, the Galaxy, the Milky Way, the Universe. ...Show more
$25.00
NZD
Category: Picture books | Series: David Hill's Kiwi Legends
In 1967 an unknown, elderly New Zealander and his ancient Indian motorcycle set a world land-speed record at Bonneville. The man was Burt Munro, and he became a Kiwi legend. How did he do it? His amazing true story is now a stunning picture book. A crowd of people stand on a flat white plain. In the di stance, a snarling, roaring dark speck is hurtling towards them. It's a motorbike. The rider is inside the shell, lying almost flat. 'Go, Burt ' The red bike blurs past. Fingers click stop-watches. How fast has Burt Munro gone this time? The moment young Burt Munro saw a motorbike chugging down a quiet Invercargill street, he was hooked. More than 50 years later, he and his ancient Indian motorcycle would amaze the world by setting a land-speed record--one that remains unbroken to this day. Burt didn't have much money. He wasn't young. But he was determined. And he became a Kiwi legend. A wonderful true story about a very unlikely New Zealand champion, by the award-winning author and illustrator of First to the Top. ...Show more
$16.00
NZD
Category: NZ Picture Books
This board book edition of Lynley Dodd's beloved rhyming story about a girl who wishes she had a more exciting pet is perfect for little hands. 'But just for once it might be fun if you changed from dog,' she said. 'To something HUGE or something FIERCE or something ODD instead.' When Susie Fogg takes h er dog for a walk, she dreams of having a more exciting pet. What if Sam were a dragon in a wagon? First published in 1988, with Lynley Dodd's famed bouncy rhymes and delightfully expressive animal illustrations, this robust board book edition is perfect for reading with babies and toddlers. ...Show more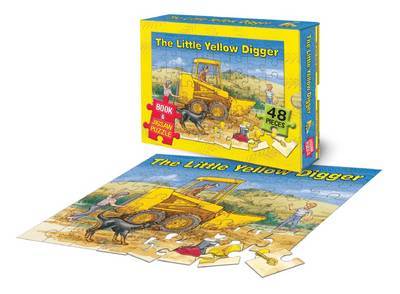 $25.00
NZD
Category: NZ Picture Books
When digging out a drain, the little yellow digger gets stuck in the mud. So they bring in a bigger digger... Is it a DIGSAW? No, it's a Little Yellow Digger JIGSAW! Build your very own jigsaw puzzle of this much-loved, hard-working little digger.  
$20.00
NZD
Category: NZ Picture Books
There, inside the kennel, Ernie sat upon his chair. And oh, so proud, he read aloud: Adventures start right here! This kennel's full of magic, read Ernie with delight. In this you'll fly, up in the sky. Get packed, you leave tonight! Join popular radio hosts Jeanette Thomas and Robert Rakete with Er nie, Benny and a colourful cast of adorable doggie pals on a magical journey of family and friendship around the world. The story was inspired by The Breeze's own radio station dog and Jeanette's rescue dog Benny. ...Show more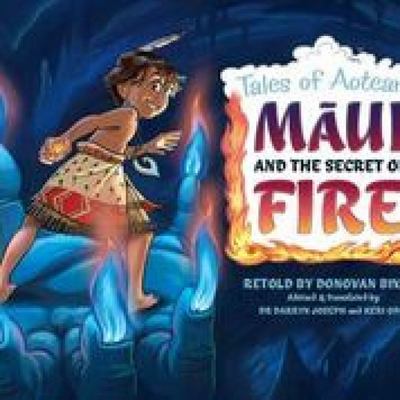 $20.00
NZD
Category: NZ Picture Books
In the third of his Maui books, Donovan Bixley re-tells the story of how Maui captured the secret of fire. The traditional tale but with Donovan's unique twist and trademark humour. The pictures are bright and bring their own level of humour to the book.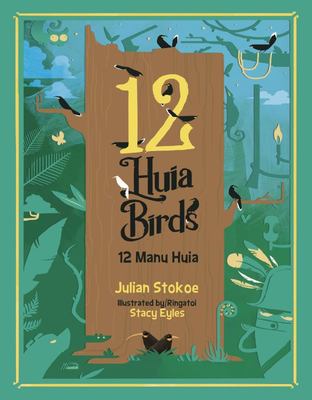 $23.00
NZD
Category: NZ Picture Books
Twelve beautiful huia birds play and sing in the forest. But is that a canoe arriving? A rat sniffling? A ship on the horizon? One by one, the huia start to disappear - what will remain? 12 Huia Birds is a captivating celebration of one of our loveliest birds. Through gentle rhyme and colourful imagery it subtly conveys an environmental message - and includes links to a 12 Huia Birds app, educational resources and games. Previously published in hardback in English, this popular book is now back with Maori text in a quality paperback. The Listener called the first edition "a striking reminder of the many ways this beautiful bird was wiped out". ...Show more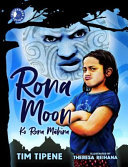 $26.00
NZD
Category: NZ Picture Books
'Everything looks so small from up here,' said Rona. 'I know,' Whaea beamed. 'Even the reasons we felt angry seem so little.' The beloved myth of Rona and the Moon comes to 21st-century Aotearoa in English and Maori in Tim Tipene's sensitive interpretation, strikingly illustrated by Tai Tokerau artist T heresa Reihana. Rona Moon gets angry with everyone, her brother, her nana and papa, and then one night she calls the moon stupid! Taken to meet her ancestor Whaea Rona on the moon, she learns a lesson in how to control her temper. ...Show more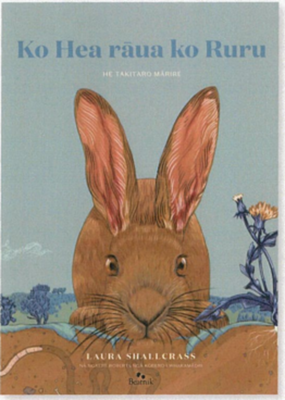 $30.00
NZD
Category: NZ Picture Books
The te reo Maori edition of Hare, who struggles with an un-named mental malady self described as 'noise'. Noise could be runaway thoughts, voices in Hare's head, or loud feelings and general anxiety. Hare goes on a journey to try and find a solution. Just when Hare thinks there's no hope a friend, Ruru, flies calmly down and gives a suggestion. ...Show more